5 tags
Ka-Bloom is back!
Boy, how time flies. An eternity has passed and now time has wrapped around itself and Ka-Bloom is getting released again! But in this timeline, something weird happened and the almighty commercial arm of BBC decided to publish it! That's right, Strongman Games is proud, excited and slightly baffled to announce that Ka-Bloom will be released for iOS and Android in the near future! We have...
Introducing: OhMyGame!
Wow, time flies. We've been promising updates about GDC, we've been promising games, and we've promised announcements. Now, then, it is time to live up to at least one of those obligations. Strongman Games is very pleased to announce OhMyGame! There's a great write-up by the godly Simon Parkin over at Gamasutra. The Q&A says it all, but I'll sum it up here...
Post-GDC 2011
Ok, so it turns out GDC was a tad bit too busy for us to actually do any meaningful writing. However, that's only because there was so much going on. The atmosphere was completely different from last year's GDC, with a tangible sense of the era of games being confined to the PC and tightly regulated platforms is over. There's tons to write about, but there's also tons of...
GDC 2011
The Strongman crew is headed to glorious San Francisco tomorrow morning, for yet another brave assault on the Game Developers Conference. We will be making some announcements as we settle into the conference groove and start talking to people, and there's well and truly exciting things on the horizon. In addition, we'll do our best to cover the convention and give a good...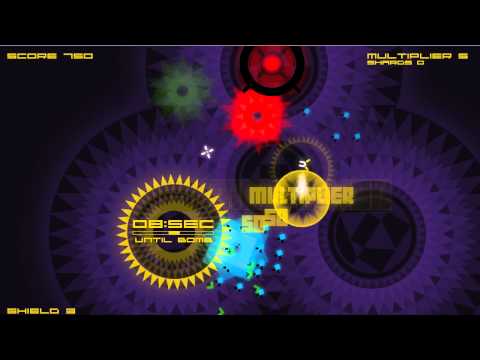 Mechs, Lies & Videogames
This rather excellent blog post prompted me to finally write about something that's been bouncing around in my skull lately: The disparity between the narrative context and the mechanical systems of most games. Cultural expressions, be they films, music, cookbooks or striptease, tend to be about something: They explore themes. Sure, a piece might subvert or play around with its theme, and...
Hacktivist Games
All the media attention surrounding "hacking" these last few weeks have made me think. First up, it's funny how Julian Assange of Wikileaks has been branded a "hacker", suggesting that whistleblowing facilitated by the digital domain is somehow a crime (or should be). Whatever he did in the past hardly concerns the legality (or technicalities) of his methods. Next...
Games Gone Wild
I recently attended a Games Gone Wild schmoozing and discussion panel event headed up by Nicholas Lovell, the lovable scamp running Gamesbrief. The theme was, as always, social games and the discussion was … general, to the point of being People Saying Things despite featuring a fairly varied and interesting cross-section of the online games biz. Might have been too varied, as practically every...
4 tags
Beauty Loops, pt. II
It's time for a second bout of game design discussion, this time focusing on the design (and finally, visuals!) of Heidegger. It's not a big project, but it is many things: a road test for our technology and the first prototype of a way more ambitious project, but first and foremost it's a game about herding. The basic form of the system is that enemies respond to the avatar's movement in a...
4 tags
Beauty Loops, pt. I
I keep wondering what it is that I love about games. When I was a kid, it was about the wonder of playing my own cartoon, that strange sense of wonder at mastering the game but not fully comprehending the limits of the world. Even mercilessly linear games like Mega Man and Super Mario Bros. didn't just feel like, but were worlds rife with potential, that could yield anything if I just explored...
Only Change Stays the Same
It's easy and tempting to believe that concepts and ideas just spring fully formed from the creator's forehead, that great stuff emerges fully formed from certain people who just have the knack. I don't really think so, and while I hesitate to call the stuff we do awe-inspiring (I'll save that sort of hyperbole for when we actually set the world on fire), I think a lot of people would still assume...
6 tags
Heidegger: Herding Evolved
We've got a bit of a crush on Geometry Wars here at Strongman Towers. The elegant neon take on the Robotron template sort of embodies everything we love about transcendent gameplay experiences. So, of course, we had to roll our own. Heidegger builds on the herding gameplay of oh-so-many twin-stick shooters, with one key difference: herding is not just a survival technique; it's the core of the...
Grand Opening at Chez Strongman
Welcome, weary wanderer, to this wellspring of wonder. As the perceptive visitor will have noticed by now, Strongman Games is a London-based maker of Flash game craziness and bringer of good things. We specialize in weird and wonderful web and social games, hoping to eventually provide an alternative to the drudgery and routine of that characterize (and arguably mar) the current crop of social...